Room Hire
Find the right space for you
Ideal for those wanting a space to conduct their session and nothing more.

Starting at:

£10

/ hour

Regency style rooms
Ranging in size from one-to-one spaces to 60+ capacity rooms.
Reception team on hand from the moment you arrive (weekdays 9am - 5pm).
Free WiFi and Bluetooth capabilities.
Equipment such as projectors, laptops and flipcharts for an additional cost
Room capacity subject to restrictions and availability.

Need a little more support? This package allows you to advertise your session(s) on our website and inclusion on our social media channels. A minimum of 6 weeks lead time is required to market your event effectively.

Room Rental price plus:

£20

/ session or block

Everything in Room Rental plus:
An event listing on our website, isbourne.org
Use of our online box office facilities
Featured in our eNews, seen by over 1,000 Isbourne customers
Inclusion in What's on social media post
Promotion in social media stories
Promotion on Cheltenham Chamber Events Page
Make use of The Isbourne Zoom account for an extra £1 per participant
Subject to availability. Price is in addition to room hire costs.
Our Rooms
The Isbourne is lucky enough to comprise of three townhouses that are connected internally meaning we have a great variety of rooms available to hire.
All of our Regency-style rooms benefit from plenty of natural light with flexible layouts to suit everything from group meetings, business conferences and training days to workshops, events, courses and one-on-one sessions. The capacity will vary according to your requirements. Several of our rooms also include break-out spaces and kitchen areas making them suitable for a wide range of uses, and can be set up with furniture to your specifications.
What sets us apart is our dedicated and friendly reception team who are on hand to assist you from the moment you and your guests arrive.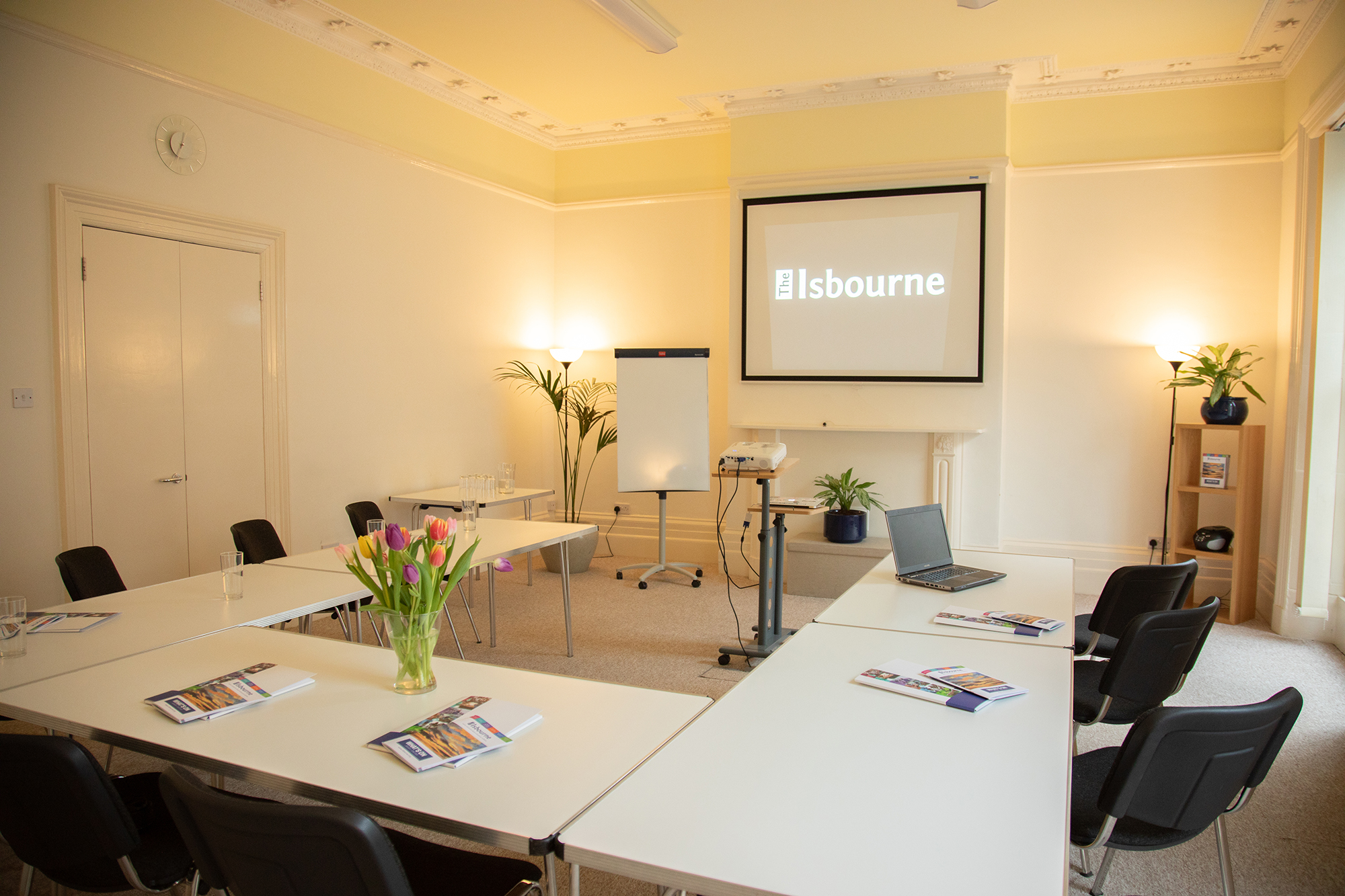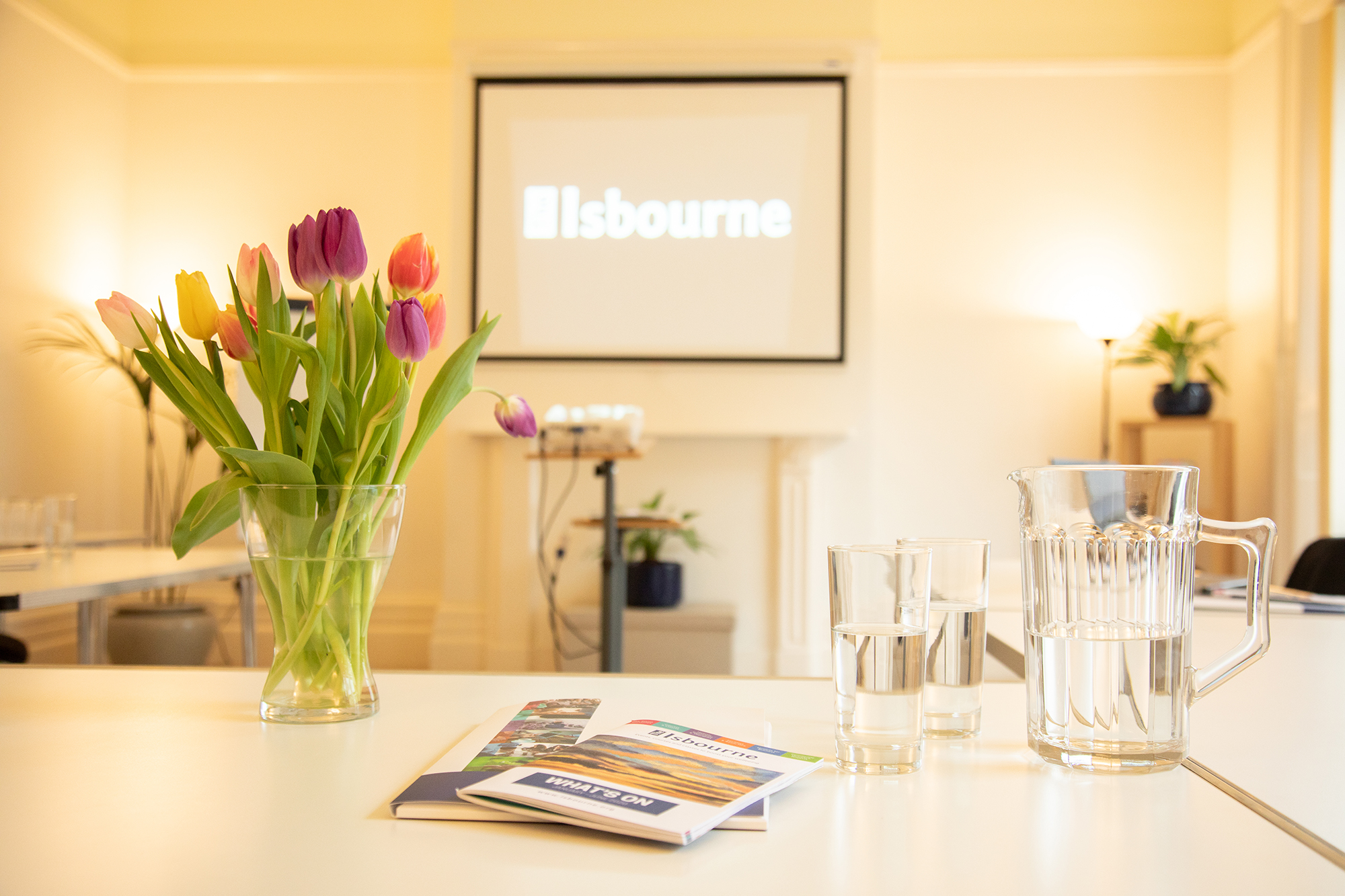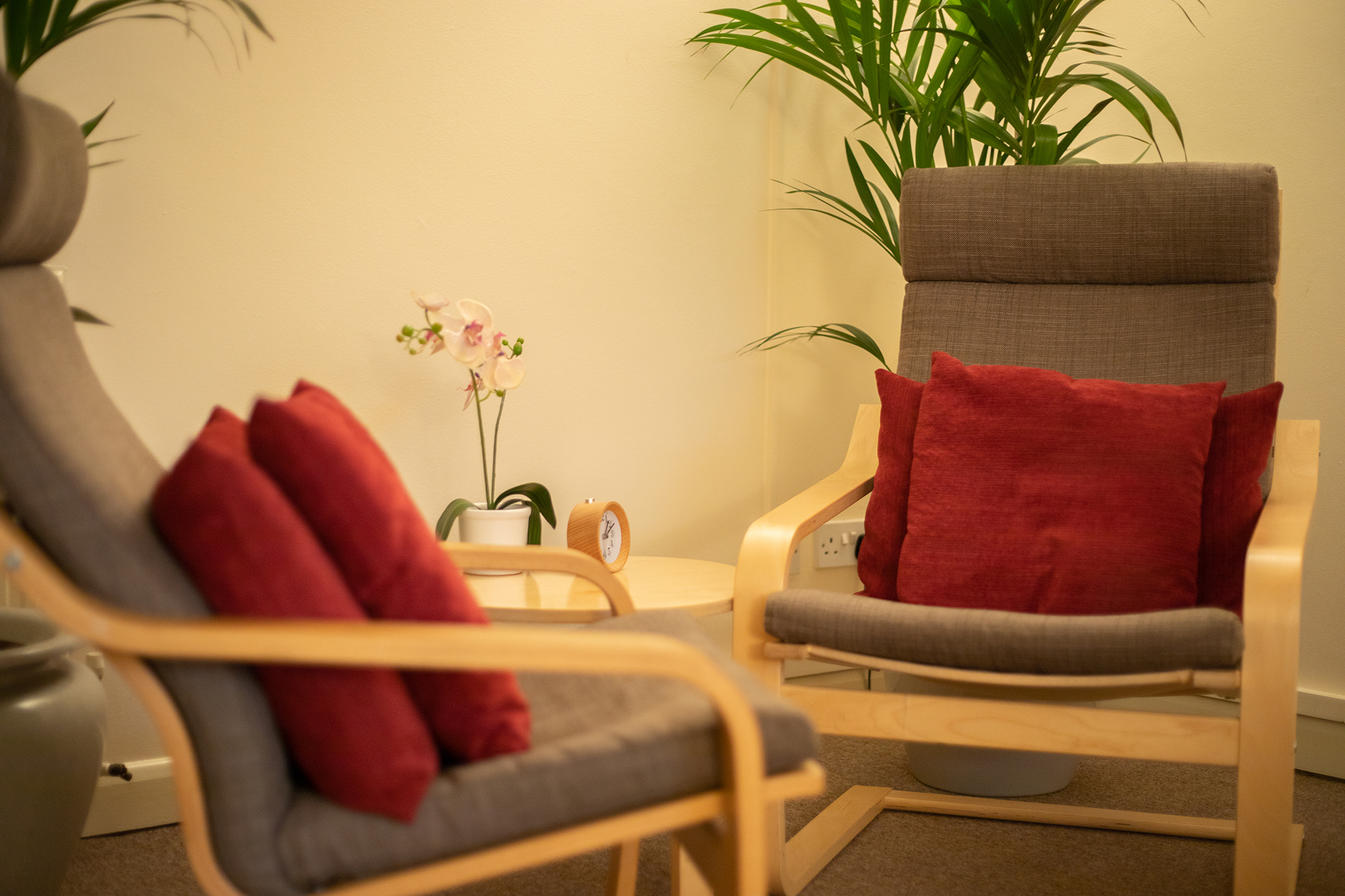 Choose from our Bronze, Silver or Gold room hire packages to utilise all that The Isbourne can offer. Whether you're a company just looking for a space to hire, or a practitioner in need of some help getting your event out there, our in-house admin and marketing teams are available to assist.
In addition to warm, clean and spacious rooms we can provide laptops, digital projectors, flip charts and pens, plus free WiFi and Bluetooth capabilities. Depending on your requirements, the size of the room and government restrictions, we can comfortably accommodate up to 65 people seated. Everything you require will be set up before your arrival, giving you peace of mind to focus on your event.
Our central location means you are within walking distance to Cheltenham's town centre with beautiful parks and vibrant shopping opportunities. The Isbourne boasts a fantastic array of transport links on its doorstep including local buses, the coach station and Cheltenham Spa rail station only a short walk away.
To enquire about booking a room or for more information, contact us via the form below.
Are you currently providing training without accreditation?
Let us help you raise the quality bar of your training via our Open College Network West Midlands Quality Endorsement licence.
Quality endorse your training now
Testimonials
Management is very easy to deal with; the booking procedure is straightforward and the staff are very pleasant and helpful.
Pauline Harris, Cheltenham Chamber of Commerce
The Isbourne offers fantastic rooms, which are always beautifully clean and set up as requested. Based in the centre of Cheltenham, the Isbourne represents an ideal location for training, meetings, etc.
Carol Stephens, Delingua Training
The staff are wonderful and the rooms are light and airy, perfect for supporting a conducive learning environment. The location of The Isbourne is great for businesses based in town as well as those travelling in as there is a car park opposite on Rodney Road.
Clare Seed, Tidal Training
We are proud to have provided rooms for
Contact Us
Interested in hiring a room or have further questions? Get in touch and one of our dedicated reception team will be happy to chat with you. Please note: we require a 6 week lead time to market any event in the Silver or Gold tier. We are a small team and appreciate your cooperation.